Setting up advanced
shipping rates for
your online store
has never been easier
The most
comprehensive
shipping plugin
for WooCommerce
The table rate shipping
plugin that helps you
when WooCommerce
options fall short
Super Shipping for WooCommerce is a table rate shipping plugin for your online store that allows you to create advanced shipping rules. Do you need to ship your products based on weight or volume? Do you need to set different prices based on the number of products being shipped? Does the shipping price change according to the total Cart price? Super Shipping is here to solve it.
What advantages does Super Shipping have compared to others?
All of this, and also, because it's very, very easy to set up
No need to create mathematical formulas to have well-configured advanced shipping rates. We don't make your life complicated: choose the conditions to which the price will apply, set the ranges to which you need to offer different costs, and that's it!
With Super Shipping, you'll get...
Shipping based on weight, price, units, or volume
You'll be able to create shipping rules based on any of these conditions to apply the shipping rates provided by your agency.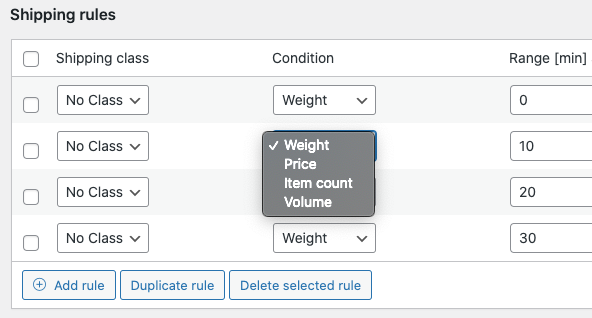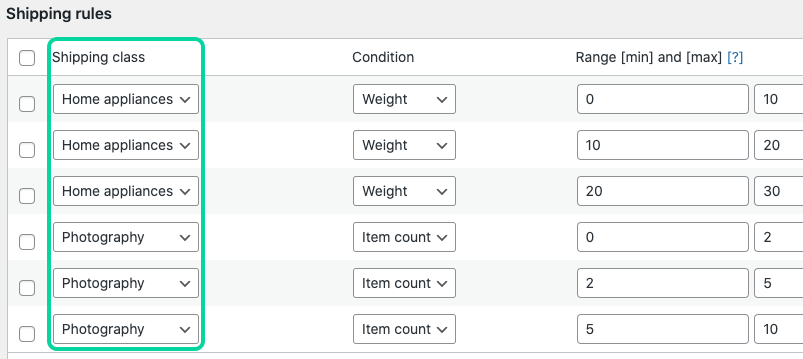 Calcular envíos separados por grupos, tipos de producto o proveedor, válido también para Dropshipping
This is possibly one of the most powerful features of Super Shipping for WooCommerce, as with it, you can apply separate shipping rates for each product or groups of products or suppliers.
You'll be able to define free shipping for orders above an amount set by you, of course also based on weight, volume, price, or product units.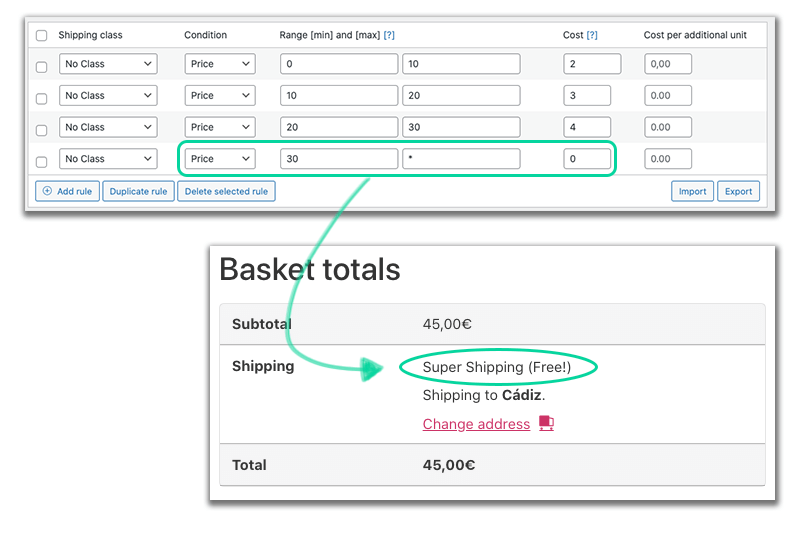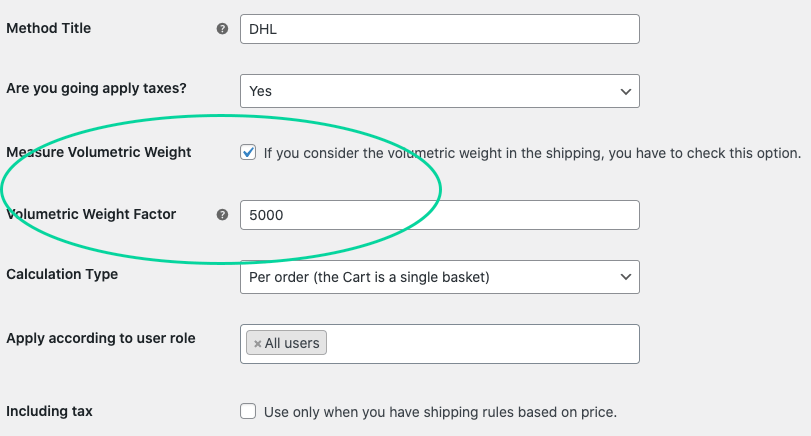 Calculation of shipping based on volumetric weight
Do you have products that are lightweight but have high volume? Does your agency provide you with the volumetric weight factor? Thanks to this feature, Super Shipping for WooCommerce will automatically calculate the appropriate shipping cost for those products.
Works with multiple shipping agencies at the same time
Do you want to offer your customers several shipping options with different prices and delivery times? With Super Shipping for WooCommerce you will be able to add as many shipping methods as you want.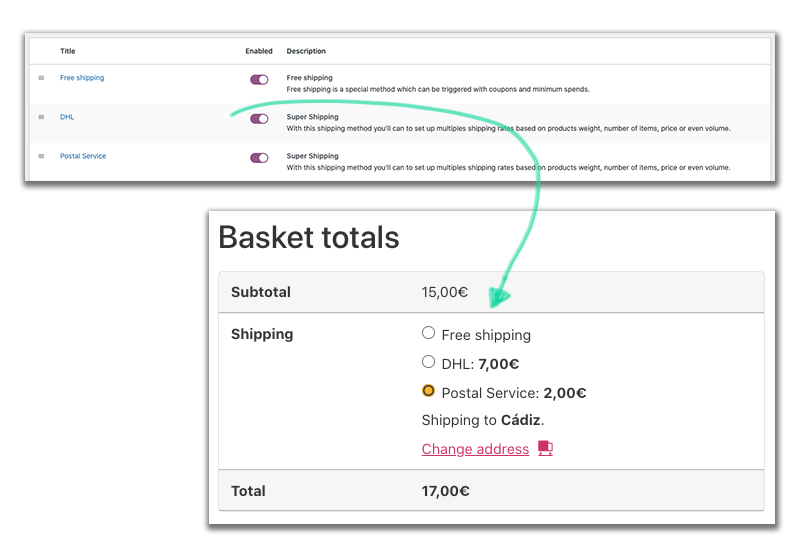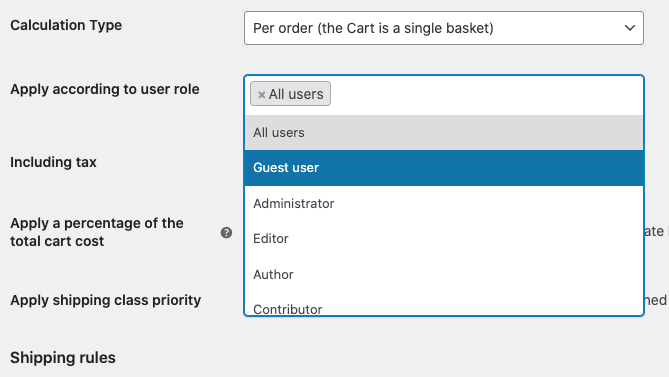 Different shipping costs based on user role
Do you sell to businesses and end customers? Do you want to restrict shipping costs based on the user role? Now you can apply different shipping costs for each one.
Import and export of shipping rules
Request the rate table from your agency and import it to your store with just 1 click using a CSV file. It has never been so easy and fast to set up the shipping costs for your online store.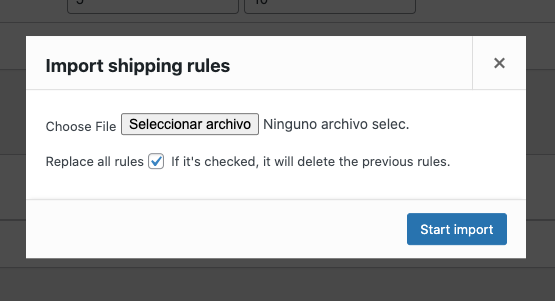 Misconfigured shipping costs =
Losing sales
Did you know that shipping costs are one of the main factors in the decision to make a purchase in an online store?
In other words, if you don't have fair and well-defined shipping rates, you might be losing potential customers who were already inclined to buy from you.
Like us, you've probably made the mistake of configuring shipping costs in WooCommerce by combining 2 or 3 different free plugins. It's been a real hassle that has cost both you and us a lot of headaches, time, and money.
When you have to work with different shipping rates based on the shipping zone, product weight, price, quantity, and countless other factors, it's not the time for experiments.
Stop experimenting with dozens of free plugins just to save a few bucks, because in the end, you'll end up losing much more.
The solution we offer you is Super Shipping for WooCommerce. A super powerful, versatile, easy, and quick-to-configure plugin that will allow you to have an online store with fair, optimized, and customized shipping costs that meet your needs.
Choose the plan that best suits your needs
BASIC
For personal projects
PROFESSIONAL
Does a project fall short?
The plugin will work permanently once the license is activated. You only need to renew support and updates, which will be valid for one year. The renewal will be automatic, although you can cancel it whenever you want. Prices don't include taxes.
Surely you have questions... Let's go with the answers
Try it before you buy it
You'll be able to make all the configurations you want on the testing page. However, we recommend that you take a look at the plugin documentation beforehand to understand how it works.
Read the documentation
You will see in detail everything you can do with Super Shipping for WooCommerce. Everything organized in sections explained step by step, with real examples, screenshots and video tutorials.
This is how they talk about Super Shipping for WooCommerce
I've been using the Super Shipping plugin for years, and I wouldn't trade it for anything in the world. I'm extremely happy. Before discovering the plugin, configuring shipping costs was a nightmare. Since I started using it, everything has become simple and effective. It has never failed, and I was able to set it up properly thanks to the tutorial, which was really helpful. It's a fantastic tool and I wholeheartedly recommend it. It's worth every last cent.
We are a creative studio, and Super Shipping has been a great help to us. It covers the specific needs of some clients when it comes to configuring their shipping policies. It's easy, intuitive, and most importantly, it does what other plugins can't. In our specific case, we've used it for a gin brand (sylexgin.com) to calculate shipping costs per bottle. Thanks to the plugin, our clients can finely configure shipments based on the number of products.
In international shipments, a 10-gram weight difference can result in a 10 euro price gap in shipping costs, making WooCommerce's native shipping option useless. This plugin solves the problem while providing many more features. The support is the best I've seen in a very long time, and I've dealt with many supports over the years.
I discovered this plugin a while ago, and it continues to surprise me more and more. At the moment, I only have it set up since the website is still under construction. However, I'm amazed by what I can accomplish with it. I've worked with other plugins before, but there's no comparison. I wholeheartedly recommend it, especially if you have a website with scenarios like mine... where if something is eligible for free shipping only here, or if the weights range from 1g to 1 ton. Oh, and let's not forget about the support – it's like a cure-all, with responses and solutions almost instantly.