Done! The moment has been sweet, and yes, dear owner of an online store, it has filled you with pride and satisfaction. It's been the culmination of a series of back and forths about products, thinking a million times, yes, no, I grab the card, I don't grab it... but in the end, that customer has taken the final step and made the purchase! Whew, what a relief! Well then, another purchase added to the list. And on to the next thi...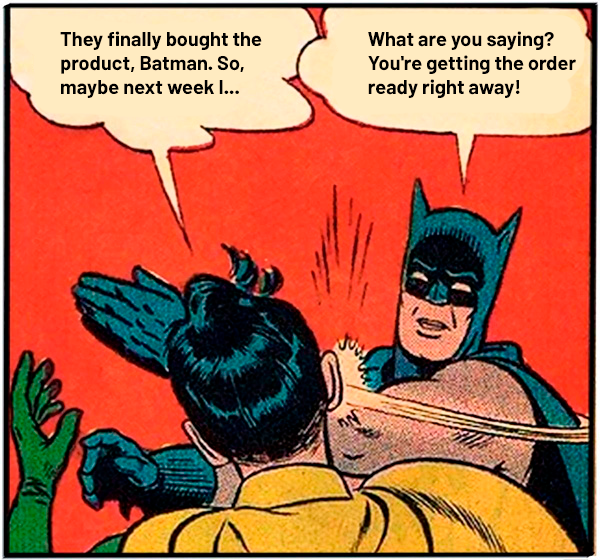 But what are you saying? What are you doing? Do you think your relationship with the customer ends here? But if the journey has just begun... didn't you know? Well, dear reader, at this point, I have to make it clear to you: your relationship with that gentleman or lady who entered their credit card number and hit "pay" is just starting a path with you that, hopefully, will be beautiful and long-lasting.
From now on, it's up to you, especially, to make sure the customer values what and where they've bought, that the experience has been satisfying, but above all, that they feel grateful, I would dare say, for the excellent treatment they have received and will receive from now on. The "build customer loyalty" in the title isn't just a formality. There are many ways that this journey can be particularly beneficial for you, but there's always a beginning.
The first steps of the relationship: send the product as quickly as possible
In any friendship (we don't need to get all intense here talking about "romantic relationships"), it's important to start off on the right foot, and the first step you and your customer will take together is the process of delivering their product. Right there, and only there, our dear buyer will have their first tangible experience that everything has gone well. If the package arrives on time, if the delivery personnel (the delivery person from the transportation agency) is friendly, if there are no significant issues, etc... the impression will undoubtedly be unmatched.
Of course, it's a different story if the product later doesn't meet their expectations, or if it arrives in poor condition. We're not going to discuss this topic here because we assume you've put effort into creating a product that meets expectations, is of high quality, well-packaged and presented, etc... right? RIGHT? Well, there you go.
As I mentioned, the first step is to send the package as quickly as possible. Don't wait five days to call the agency for pick-up, because then it might take another 2 or 3 days until it's delivered. Are you going to keep your customer waiting a week to receive their purchase? If so, consider them gone immediately. So, at the very most, arrange for pick-up the next day. After that, the package will reach its destination in 3 or 4 days at most, which is not bad at all for someone who's not Amazon and doesn't have their bomb-proof logistics in place.
Let's make a good impression: shipment tracking.
Something you could do right now, which looks really impressive, is to offer your customer the option to track their package. Once your logistics company has the package in their possession, they will generate a tracking code that you can access and pass on to the customer in various ways.
The quickest way is to send them the code manually, through an email, for instance. If you have a few orders to start with, it won't take much effort, as you would just copy the code, paste it into an email with a thank-you message, and add some instructions on how to track it. This way, you're hitting two birds with one stone: you're impressing the customer after their purchase by addressing them directly, and you're giving them the option to track their order so they don't get impatient. trackear su pedido y que no se impaciente.
Another option you can consider is using a tracking plugin. There are several options in the market, but the easiest to use is this one: https://wordpress.org/plugins/aftership-woocommerce-tracking/ that allows you to connect your online store with their platform, from which you can manage multiple transportation companies (probably the one you work with is in their list). This way, once you've shipped the product, an email will be sent to the customer, who can then track their order from their user account. Fantastic!
What if we make the customer receive their order as if it were (almost) a gift?
It's highly satisfying for the customer to receive their orders on time and in good condition. But if we turn that moment into an experience, that would be the cherry on top. No, it's not about sending gifts in the package, as that might end up costing us more than the actual product. However, having a little something, so that when they open the box or the bag, they see that the process was handled with "love".
The first thing is to try to make the packaging attractive. There's packaging that's very well done that makes this initial impression, seeing a cardboard box, even exciting. Once opened, the customer will find their expected product, of course. But hey, what if we've left a little card with a nice message thanking them for their purchase and wishing them to come back if they want, or to let us know what they thought of their choice, or whatever it is we want to say? Speaking politely and expressing gratitude, we've already covered a lot of ground. And if you're not into sending cards, how about some candies if it's a product for kids? Or perfume samples if our store is in cosmetics? There are a thousand options, and surely, you'll find the most appropriate one for that moment.
At this point, the process of shipping our product has come to an end. What began as a small shipping expense in the sales process, configured thanks to tools like Super Shipping for WooCommerce, has been a whole journey, pun intended, in our relationship with the customer, which, as we mentioned at the beginning, has only just begun.
From now on, the rest of the customer loyalty journey depends on you, being a good host to solidify the relationship that has just started. There's plenty of literature on the internet to learn how to do it, so I encourage you to explore and turn your online store into a real success.
¡Haz clic para puntuar esta entrada!