Si vendes productos que necesitan ser enviados a sus compradores (productos físicos de toda la vida) mediante una empresa de transporte, entonces necesitarás saber sacarle el máximo rendimiento a las opciones de envío que ofrece WooCommerce. Para ayudarte a comprender y a cómo empezar con la configuración de los envíos en tu tienda online, en esta entrada te mostraremos cómo aprovechar al máximo algo tan básico como es configurar gastos de envío en WooCommerce y cómo el plugin de WordPress Super Shipping for WooCommerce puede ayudarte en este camino.
Why is it important to properly configure WooCommerce shipments?
Shipping costs are one of the most critical aspects of an online store. Therefore, managing the logistics of product shipments makes a substantial difference in your ability, as a seller or a company, to improve customer satisfaction.
There are some key issues to consider when handling everything related to shipping your products. First and foremost, your company must ensure that it has the appropriate carrier and shipping services for your products. Sending fresh food is not the same as sending a pair of pants, for example. The type of product will also determine how we need to package them, which will likely affect the shipping cost, as transport companies apply their rates based on these and other factors.
Taking this into account, as a basic aspect, your company will ensure that all shipping logistics are as efficient and effective as possible, which will lead to happier customers and, consequently, more sales for the business (at least that's the desirable outcome).
Basic concepts to consider when configuring shipping in WooCommerce
Therefore, if you have an online store with WooCommerce, the configuration of shipping costs can be, as we have already mentioned, one of the most important factors for its success.
There are several factors to consider in this regard, such as "shipping methods," shipping rates, or delivery time, and all of this can be established using Super Shipping for WooCommerce.
One of the first steps when creating the online store will be to decide which methods we are going to offer. It might seem complicated because our shipping agency will likely provide us with different options, price ranges, etc... but in the end, we either simplify things a lot or, if we want to align with what our agency offers, we can do so easily with our plugin. By the way, it absolutely doesn't matter if you take some time to research which methods will work best for your business, because in the end, this will determine whether many of your customers decide to complete a purchase. And I say this from experience...
With Super Shipping, you'll be able to create different shipping options to offer customers a choice, allowing them to opt for faster or slower deliveries. You can establish price ranges based on various conditions, such as price, weight, volume, offer a free rate above a certain amount, have differentiated prices based on product types, etc.
Creating shipping zones
The truth is that anything related to WooCommerce shipping can be a bit confusing at first. There are many options, and it's hard to know where to start. But once you grasp the basic concepts, it's not so bad.
Shipping zones are the geographical areas to which your products will be delivered. They can be as small as a single country or as large as the entire world. So, in reality, you can create as many shipping zones as you want, but most stores will only need a few.
To create one, go to WooCommerce > Settings > Shipping. Then, click on the Add Shipping Zone button. Enter the name of your shipping zone and select the countries you want to include in it. That's how simple it is. Afterward, you can add a shipping method to that zone you've created.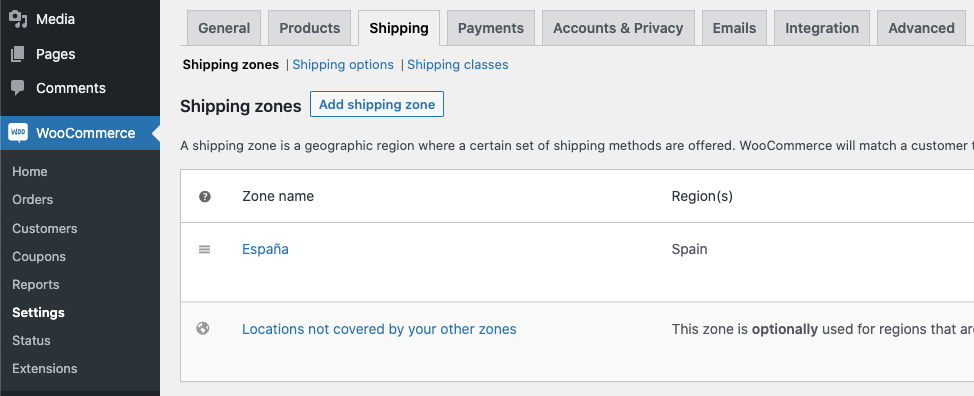 Shipping methods
Likewise, within a zone, we can create as many shipping methods as desired, which we'll use (if we create multiple, of course) to offer the buyer different options to choose from: for example, expedited shipping, standard shipping, through one or another shipping agency (if we work with several), etc.
To do this, WooCommerce offers three basic methods where you can input the price: flat rate, free shipping, and local pickup. Nothing more (and nothing less). Some online stores are satisfied with a very basic price configuration, so they won't need anything else. But if we want to go a bit further, which will be the case for almost all stores with well-thought-out shipping costs, those options fall quite short.
Another thing to consider is what type of products we will be shipping. We can even separate product groups based on their characteristics, such as being fragile, oversized, perishable, regular, etc. This way, we can create shipping methods for products that need higher prices than others, or assign price ranges based on their weights, while applying shipping prices based on the number of items added to the cart, or their volume for others... Any combination is possible with Super Shipping when configuring WooCommerce shipments.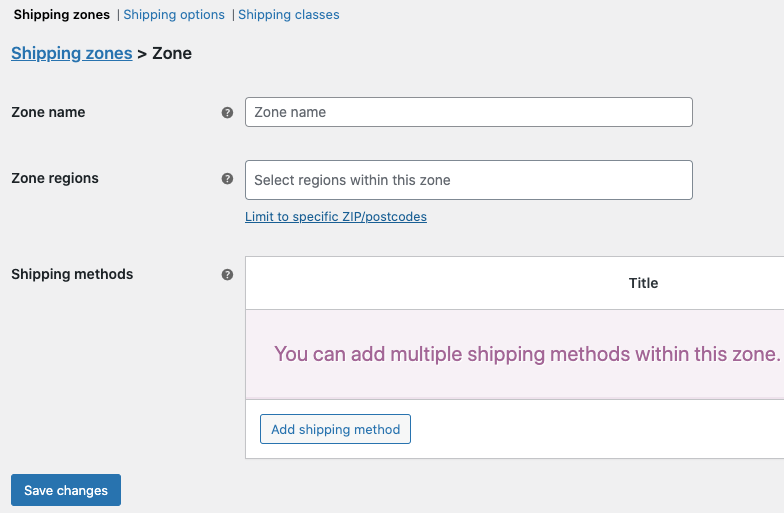 As we were mentioning, you might want to offer the customer the possibility to choose a faster shipping method over another (an agency that delivers in 24 hours versus another that delivers in 72). No problem, as WooCommerce gives you the option to add multiple choices that will appear both in the Cart and on the Checkout page, as we've already explained, and which you can then implement using Super Shipping for WooCommerce to create your pricing rates.
Free shipping in WooCommerce
One of the most interesting options to offer to customers is providing free shipping for orders above a certain amount. This encourages potential buyers to spend more to take advantage of the opportunity to buy more without paying for shipping. You can do this without breaking a sweat, thanks to our plugin. Set a cost of zero beyond a certain cart value or after a certain number of products... you have various possibilities to achieve this, and your customer will appreciate it.
As you can see, a world of possibilities opens up with Super Shipping for WooCommerce when it comes to tackling how to apply shipping costs in your online store, which was probably giving you a hard time. We hope we've been of help.
You can find more information in the Super Shipping documentationTake a look and see all that you can accomplish with this plugin.
¡Haz clic para puntuar esta entrada!